Welcome!
Edit
This Wiki is all about one of the most famous families in America, The Kennedys! The Kennedy's are a prominent family in America's history because of their influence on politics, particularly in the Democratic Party. The second son of Joseph Patrick Kennedy Sr., John Fitzgerald Kennedy (commonly known as "Jack" or "JFK"), was the 35th president of the United States from January 1961 until his assassination in November 1963 while his brothers Bobby and Ted both became prominent Senators. Joe Sr. originally pinned his hopes on his eldest son Joe Jr. to enter politics but he was killed in World War II. The Kennedys are sometimes referred to as "America's Royal Family" because of their wealth, glamor, and extensive involvement in public service. Despite their great successes, the family has suffered numerous tragedies, which led to the idea of "the Kennedy curse". Joe Sr. and Rose's eldest daughter Rosemary Kennedy was made to undergo a lobotomy which turned out to be crippling. Jack and Bobby were both assassinated in the 1960s (Jack-1963 and Bobby-1968). Joe Jr., Kathleen "Kick" Kennedy and John Fitzgerald Kennedy, Jr. were all killed in plane crashes. Ted was also involved in a plane crash, but survived. Most recently, Robert Kennedy, Jr.'s second wife, Mary Richardson committed suicide in 2012.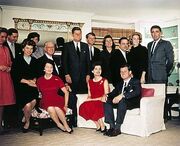 There will a page dedicated to each member of the family and extended family.
Latest activity
Edit
Photos and videos are a great way to add visuals to your wiki. Find videos about your topic by exploring Wikia's Video Library.
Community content is available under
CC-BY-SA
unless otherwise noted.