Mary Courtney Kennedy (known as Courtney) was born on September 9, 1956 in Boston, Massachusetts. She is the fifth of the eleven children of Robert Francis Kennedy and Ethel Skakel Kennedy.
Early Life
Edit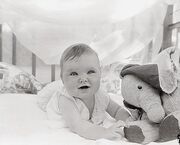 Courtney grew up in Mclean, Virginia at her family's estate famously called Hickory Hill. Her uncle, John F. Kennedy, was elected President in 1960 when she was just four years old and her father, Robert F. Kennedy became his Attorney General. In 1963, her uncle was assassinated and shortly after her father resigned as Attorney General to run for the United States Senate for New York. Robert F. Kennedy won the election and Courtney and her family lived in both New York and Mclean, Virgina until 1968 when her father decided to run for President. On June 6, 1968 after winning the California Democratic Primary, Courtney's father Robert F. Kennedy was fatally shot. Courtney and the rest of her family traveled back to New York for the funeral services and six months later her youngest sister, Rory Elizabeth Katherine was born.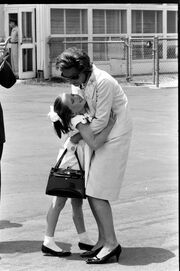 Marriages and Family
Edit
Through her work at the Children's Television Workshop Courtney met ABC sports producer Jeffrey Robert Ruhe. The couple married on June 14, 1980, in Washington, D.C. and were divorced in 1990.
Courtney then married Paul Michael Hill on June 26, 1993, on a boat in the Aegean Sea. Hill is an Irishman who was imprisoned for 15 years after being convicted of several bombings on behalf of the IRA. However, he was later found to have been convicted unjustly; no evidence linked him to either the bombings or to involvement with the IRA. Further investigation revealed that the confessions of himself and three others were coerced after many days in detention without charge, and the purported notes from the interrogations were fabricated by the police some time later, so that the notes would reflect the case the police had decided to build. (The film In the Name of the Father (1993) was based on this case.)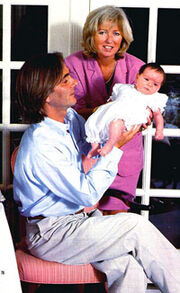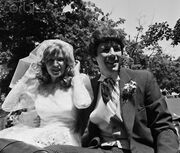 Courtney and Hill were reportedly introduced by her mother. They have one child, a daughter named Saoirse Roisin Hill (born 1997 in Washington D.C.). The couple lived in Ireland from 2002 to 2006. In February 2006, they legally separated. She was formerly a representative for the United Nations AIDS Foundation.
Courtney currently lives in Bethesda, Maryland.